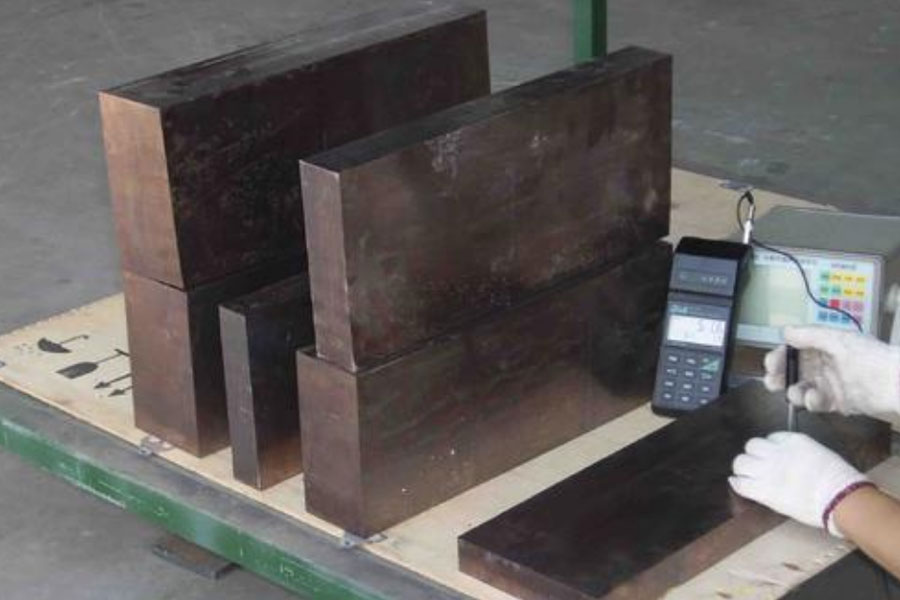 In more and more engineering applications, materials need to work in a magnetic field. The key requirement of this kind of operation is that the interference to the magnetic field is small, and the residual magnetism is not retained after the material is exposed. Materials that exhibit these characteristics are called magnetically transparent materials, or simply, non-magnetic materials. Copper-beryllium alloys are often specified because of these non-magnetic properties. In addition, copper beryllium has high strength, toughness, and conductivity from low temperatures to above room temperature.
The Classification Of Beryllium Copper Alloy
There are two types of copper-beryllium alloys: high-strength copper-beryllium is the highest strength among all copper alloys, and has good thermal and electrical conductivity. Depending on the product form, its tensile strength can exceed 200,000 psi (140 kg/mm2), the conductivity range is 18-25% IACS, and the thermal conductivity is 60 BTU/ft·hr·°F (105 W/m·K) . The highly conductive copper-beryllium alloy has better conductivity at a medium strength level of 120,000 psi (85 kg/mm2) (50-60% IACS and 145 BTU/ft·hr·°F, 250 W/m· K). The copper-beryllium alloy of material brush performance alloy includes strip, rod, wire, plate, rod, tube, and ingot. Common high-strength copper-beryllium alloys are Materion Brush performance alloys 25 and 165 (UNS C17200 and C17000); high-conductivity alloys include Materion Brush performance alloys 3 and 10 (UNS C17510 and C17500).
Non-magnetic metals can be paramagnetic or diamagnetic, depending on the occupancy of the metal electron shell. In paramagnetic metals, individual atoms have a net magnetic moment, but their random orientation causes the net magnetization of a group of atoms to be zero. In a magnetic field, these random atomic moments are partially aligned, and their flux is slightly larger than the external magnetic field. The magnetic susceptibility of paramagnetic materials is positive and the magnetic permeability is greater than one. In diamagnetic materials, the balance of the atomic magnetic effect, that is, the atomic magnetic moment is zero, is disturbed by the magnetic field, and a small diamagnetic field is generated. The susceptibility of diamagnetic materials is negative, and the permeability is slightly less than 1. The highly conductive copper-beryllium alloy is diamagnetic, and its magnetic properties are similar to that of metallic copper. High-strength alloys are typical of most copper alloys and have weak paramagnetism. Figure 1 lists the typical magnetic properties of copper beryllium, which are determined by the Guyi balance and vibrating sample magnetic measurement technology.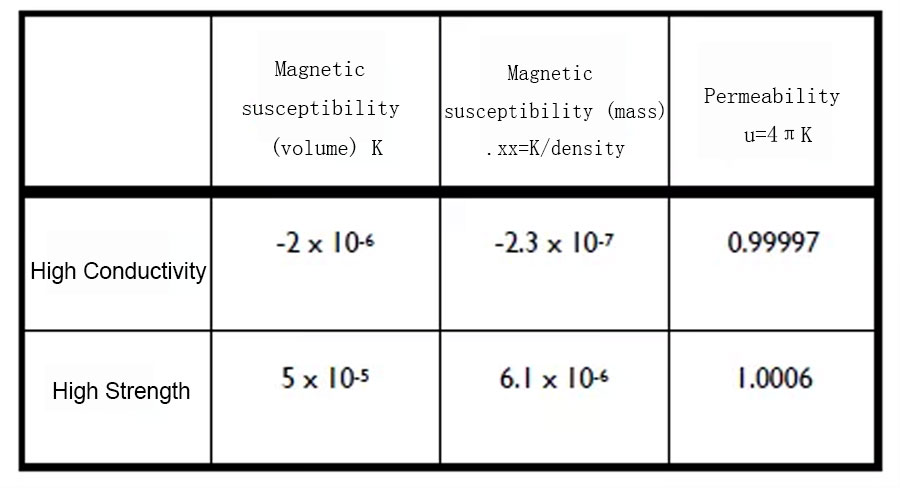 The magnetic properties of copper beryllium are constant throughout the strength of the alloy. From liquid helium to above room temperature, the magnetism does not change with temperature. It can be seen from Figure 2 that the magnetic field strength has little effect on the magnetic properties of copper beryllium.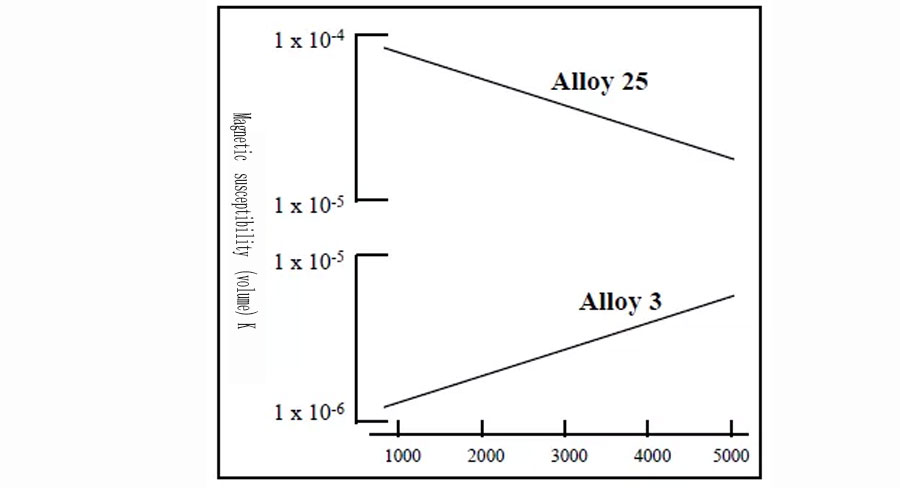 Cold working or plastic deformation will not change the magnetic properties of copper beryllium. Some non-magnetic austenitic stainless steels may be transformed into ferromagnetic martensite due to cold working during use. As shown in Figure 3, deformation increases the magnetic susceptibility of stainless steel, but has no effect on beryllium copper. Local deformation caused by cnc machining or surface defects will form magnetic hot spots on the surface of stainless steel. Martensite transformation in stainless steel is more likely to occur at low temperatures. The accumulated strain generated from thermal cycling to low temperature will cause deterioration of non-magnetic properties in stainless steel. This is not a problem with beryllium copper.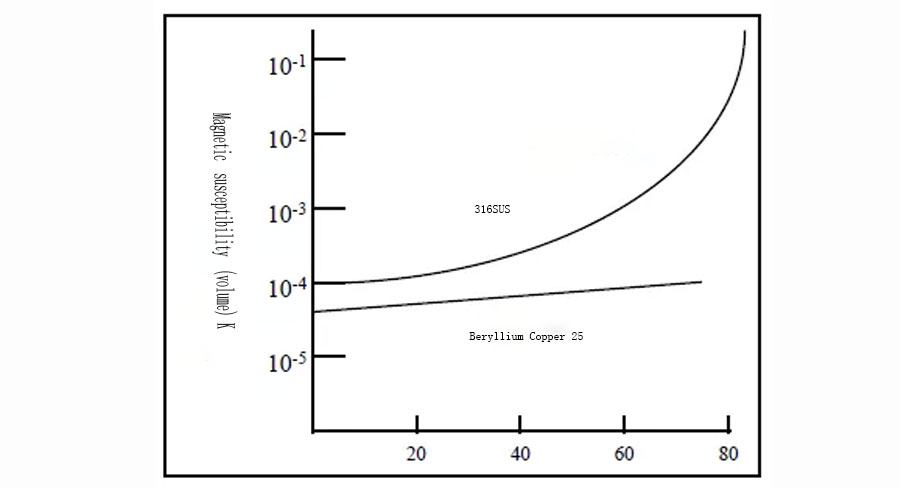 Non-magnetic applications of copper beryllium
Due to the combination of strength and low magnetic susceptibility, applications for high-strength copper beryllium range from small springs and electronic connectors for low-frequency/low-signal communications to large-diameter tubes used as enclosures for magnetic measurement equipment. High-conductivity copper-beryllium alloys are used in magnet structural applications (low temperature and room temperature), requiring high-conductivity, medium-strength, non-magnetic materials.